Steven Amin - Glaziers and stained glass studio.
14-16 St. Ronan's Road, Monkseaton, Whitley Bay, Tyne & Wear. England. NE25 8AX

How to take measurements for a replacement door




Measure the opening in your timber frame - not the existing door
(The existing door might not be a perfect fit)

Measure the width at the top, middle and the bottom of the frame.
They will probably be different sizes.
Order the door to the larger size minus 2mm on each side for clearance.
It can then be planed to size and shape.

Measure the height from the top of the frame to the point where the door will
clear the carpet or floor covering

Measure the height on both sides.
Frames are quite often out of square so they will probably be different sizes.
Order the door to the larger size so it can be planed to shape.

Measure the rebate of the frame to establish the thickness of door required.
Sometimes the rebate is formed with door stop.
This can often be removed and adjusted to accommodate a different thickness door.
For bespoke doors you may also specify the midrail height.
This is the measurment from the bottom of the door to where the glass sits.
How to measure glazing for a door
The glass is usually held in place with timber beading or putty
Measure where the beading or putty meets the frame.
This is the tight size.

Measure the width at the top and the bottom.

Measure the height on both sides.

They may be different sizes.
Order the glass to the smaller tight size minus 1/8" (3mm)
for clearance.

Steven Amin - Monkseaton Glaziers and stained glass studio.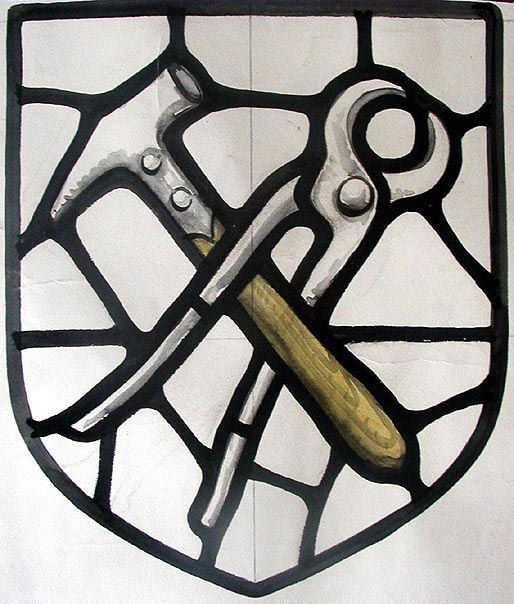 We are a glaziers and stained glass studio situated in the village of Monkseaton, near Whitley Bay on the Northumberland coast of England.
We supply, and provide a full repair & restoration service to stained glass, leaded lights and Tiffany lamps.
We supply traditional Victorian doors, Edwardian panel doors, vestibule doors, bespoke doors and doors with stained glass.
Stained glass and leaded lights Victorian stained glass Acid etched glass Brilliant cut glass
Tiffany lamps New finds Reproduction handmade doors Old doors for sale Interior doors
How to find us Glass, glazing & double glazing Links
how to unpack

Copyright Steven Amin - www.stained-glass-studio.co.uk.
All rights reserved.
Revised: