Reproduction Victorian Brass Door hardware
Brass letter plates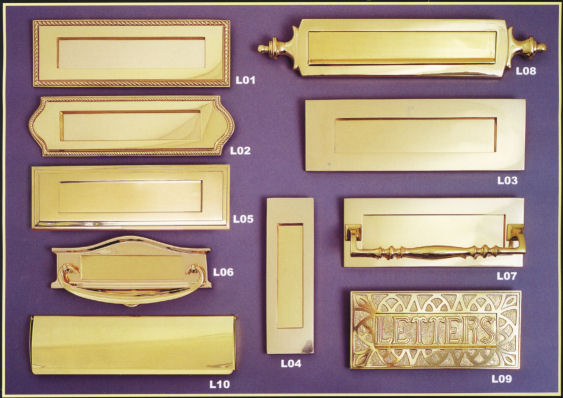 L01

Georgian Letter plate

Aperture 190 x 40 Bolt Centre 220

255 x 75(mm)

£27

L01a

Georgian Letter plate

Aperture 207 x 44 Bolt Centre 240
277 x 96
£25

L02

Shaped Letter plate

Aperture 194 x 41 Bolt Centre 235

275 x 77

£35

L03

Victorian Letter plate
Aperture 190 x 40 Bolt Centre 225
255 x 75
£35
L03b
Victorian Letter plate
Aperture 202 x 50 Bolt Centre 230
255 x 100
£39
L03c
Victorian Letter plate
Aperture 310 x 102 Bolt Centre 265
310 x 102
£45
L03d
Victorian Letter plate
Aperture 355 x 115 Bolt Centre 325
355 x 115
£55
L03e
Victorian Letter plate
Aperture 405 x 125 Bolt Centre 375
405 x 125
£79
L04
Vertical letter plate
Aperture 150 x 35 Bolt Centre 189
Larger sizes available (please email)
230 x 65
£35
L05
Edwardian Letter Plate
Aperture 202 x 43 Bolt Centre 231
282 x 88
£46
L06
Period letter plate
Aperture 143 x 35 Bolt Centre 175
225 x 105
£39
L06a
Period letter plate
Aperture 220 x 48 Bolt Centre 255
303 x 150
£49
L07
Letter plate with handle
Aperture 200x 50 Bolt Centre 230
255 x 100
£63
L07a
Letter Plate - Handle
Aperture 225 x 50 Bolt Centre 265
315 x 100
£69
L08
Gravity letter plate
Aperture 265 x 45 Bolt Centre 330
415 x 82
£55
L09
'LETTERS' letter plate
Aperture 170 x 50 Bolt Centre 207
240 x 113
£45
L10

L10a

L10b

L10c

Internal Door Tidy


280 x 85

300 x 90

355 x 110

285 x 77


£19

£22

£31

£25
Prices exclude vat
This polished brassware has been coated with lacquer and it should not be cleaned with abrasive metal polish or the lacquer coating will be damaged.
The life of the coating can be prolonged by regular application of wax polish. However, particularly on exterior door furniture, when the coating has broken down due to atmospheric exposure all remaining traces must be removed. Lacquer may be removed with Paint Stripper or Acetone. The item will then be in a suitable state for cleaning, polishing and maintaining with products listed in this section. A coat of transparent lacquer can be applied only if desired as lacquered brass generally requires more vigorous cleaning after a longer period than non-lacquered brass which may need moderate attention but more frequently. All Brassware has a tendency to tarnish if not cared for periodically.
MORE Letterboxes ~ letter plates
Gothic, Classic and traditional styles



Solid Brass Door Knobs
without lacquer
Victorian brass door knobs and handles



Steven Amin - Glaziers and stained glass studio.
14-16 St. Ronan's Road, Monkseaton, Whitley Bay, Tyne & Wear. England. NE25 8AX

Stained glass and leaded lights Victorian stained glass Acid etched glass Brilliant cut glass
Tiffany lamps New finds Reproduction handmade doors Old doors for sale Interior doors
How to find us Glass, glazing & double glazing Links


Copyright Steven Amin - www.stained-glass-studio.co.uk.
All rights reserved.
Revised: July 12, 2014 .